The most thrilling fantasy you'll read this year is out now. 
A Throne of Swans by Katharine and Elizabeth Corr, authors of The Witches Kiss Trilogy, is a brilliant new fantasy novel publishing TODAY!
To celebrate, we wanted to share an extract from the book with you to give you a taster…
I take a deep breath, ignoring the bubble of panic beneath my ribcage, and close my eyes, recalling what my mother taught me. I focus on the current running underneath my skin, the power to transform that only nobles possess, that sets us apart from the flightless majority. I envisage the contours of my body, the glowing outline that would be left if you stripped away flesh and bone, concentrating on its flexibility, thinking my way into that state of pure energy that sits between each physical configuration.

And I can feel that it's working, that my form is beginning to alter, to melt from one shape to another, the bones lightening, lengthening, the skin morphing into feather –

Pain flares from the ragged nerve endings in my scarred skin. Terror follows, as bitter and violent as I remember. As swift as the hawks – two transformed nobles – who dropped out of the clouds and fell upon my mother and me, killing her and ripping my back apart.

Two hawks. There in the sky, above us. I know what I saw.

I was talking to my nurse, because my father's grief had rendered him speechless.

You're mistaken, my lady. It can't have been hawks, because there are no hawk families, not any more. You saw some other noble in flight, and you're confused, my poor pet . . .

But I'm not confused. I know what I saw –

My chest seizes up and, as I struggle to breathe, the glowing outline in my head disappears. My human body reasserts itself and snaps back into existence, solid and undeniable, leaving me gasping naked on the floor.

Lord Lancelin's words come back to haunt me: You are, for all practical purposes, flightless . . .
Let us know what you think of this book, the start of an incredible duology, on GoodReads, Amazon or NetGalley.
A Throne of Swans published on 9th January 2020.  Order your copy today.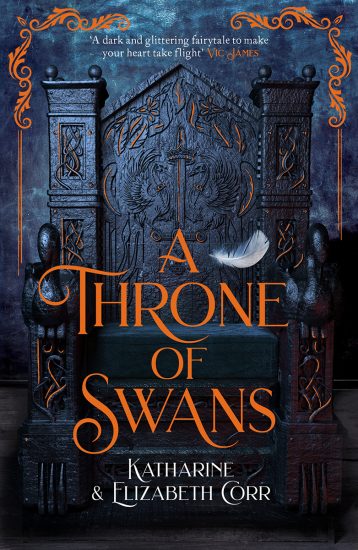 About the Book
In a world where the flightless are ruled by those who can fly . . .
When her father dies just before her birthday, seventeen-year-old Aderyn inherits the role of Protector of Atratys, a dominion in a kingdom where nobles are able to transform at will into the bird that represents their family bloodline. Aderyn's ancestral bird is a swan. But she has not transformed for years, not since witnessing the death of her mother – ripped apart by hawks that have supposedly been extinct since the long-ago War of the Raptors.
With the benevolent shelter of her mother and her father now lost, Aderyn is at the mercy of her brutal uncle, the King, and his royal court. Driven by revenge and love, she must venture into the malevolent heart of the Citadel in order to seek the truth about the attack that so nearly destroyed her, to fight for the only home she has ever known and for the land she has vowed to protect.
Written in rich detail and evocative language, this is the start of an irresistible, soaring duology about courage, broken loyalties and fighting for your place in the world.
About the Authors
Katharine and Elizabeth Corr are sisters originally from Essex, now living in Surrey. When they both decided to write novels – on account of fictional people being much easier to deal with than real ones – it was obvious they should do it together. They can sometimes be found in one of their local coffee shops, arguing over which character to kill off next. Katharine and Elizabeth are also authors of the spell-binding trilogy The Witch's Kiss.