Social distancing has made me fall in love with a new phenomenon: that of the late night Instagram Live music battles, #VERZUZ, that have been taking place almost weekly. The battles started soon after DJ Nice hosted his Club Quarantine online gathering, and they resemble traditional hip-hop battles: two people go toe-to-toe with their best tracks. For viewers, it's like getting a live concert, but with the undercurrent of competition, which given that my roots began at poetry slams is exactly my cup of spiced tea. These battles, in their homage and joy and swagger, have been uplifting points in what has been a very anxiety-inducing time. Because hip-hop is so community-oriented, it's made me consider the question, "how do we practice community-building in a time of social and physical isolation?
My novel, Clap When You Land, is a story that follows two sisters, Yahaira and Camino, who do not know about each other until their father dies in a plane crash and one of them receives grievance money from the airline. It is loosely based on American Airlines Flight 587, which crashed in 2001 on its way from New York to the Dominican Republic. Flight AA587 crashed, two months after the September 11th attack on the World Trade Center. I was thirteen years old. I remember how that flight falling rocked my community: Mr. Gallego, father to my stoop buddy, was on that flight; one of my father's friends from the barbershop was on that flight; it seemed everyone knew someone who knew someone who died in the crash. There were candlelight vigils outside of apartment buildings in memory of the dead, hora santas held in homes jam-packed with neighbors, and dedicated prayers at the weekly mass. As the loss loomed large, we knit ourselves close.
It is interesting to be in a moment where I am releasing this particular novel in the midst of a very different crisis. And yet, I'm finding overlap between how my community dealt with AA 587 and how it seems like we are currently dealing with COVID-19; it seems more imperative than ever that we keep reminding ourselves, we are not alone.
Those weekly hip-hop bodies have kind of emboldened me. I mean, we are talking about some of the biggest hitmakers in the world, jumping on social media, and offering their thoughts on the current state of hop-hop, on craft, on their own careers for the enjoyment and sanity of the genre's fans. Hip-hop has always been innovative. Always been had their foot already off the ground while everyone else was trying to simply trying to see the curve. I wondered if I could take those lessons and enfold them into my own ethos on community-building.
Hence, in the midst of this COVID-19 Pandemic, I sit on the phone with my mother, who is 69 years old this week, and several hundred miles away, and yet, now that we are both quarantined, and she and I are talking more it seems like in many ways the physical distance has collapsed. I have been more open about the anxieties I've been dealing with, and she's more more opening to my offering help and giving advice. And some days, like today, the only thing that matters is whether or not I can find her favorite brand of malta on the grocery app I'm using to send her fresh goods. Shopping together has become a new activity as I try to help her stay indoors. It reminds me of grocery shopping with her when I was little, only this time I don't have to anxiously wait on line while she promises she's just going to get one last thing! She's even sent my husband an invitation to join her siblings-only weekly prayer call. We are forming new and loving ways to connect. And I'm finding that as the world has slowed down, I'm still trying to manage my emotional bandwidth, but I'm also leaning into my deep desire to be more involved with the people and spaces I love.
My best friend and I have FaceTimed more in the last month than we did in the last decade; we need to not only hear, but also see, that the other is doing well. I did an Instagram Live event last month, the first time I've connected with my followers in that way, and although I set out only to do a twenty-minute reading, I ended up doing an hour-long craft talk—because people had questions, and because I was so dang happy to be interacting with other humans my introvert-self embraced the thrill. The first mid-pandemic event I did online was at the behest of my local library; I was able to speak with teachers, parents, readers from all over the city who had read my book as part of the library's social-distancing book club. I'm tweeting constantly about new releases in an effort to support other writers, especially debuts I'm talking with indie bookstore owners on grassroots ways I can be supportive. I tuned in with 200 other people to watch a close homie defend his dissertation at Harvard.
We are not alone in our fear, in our hurt, in our hope. We are not alone in our innovations for holding space for one another. So, we plan Zoom happy hours, and WhatsApp prayer circles, and we order our viejitos groceries and dinner; we trade recipes with old college roommates and make book recommendations for childhood friends, and hop on phone calls with strangers who are trying to understand our industry. We text our in-laws to go on walks, or to stay indoors, or whatever combination is necessary to ensure the people we cherish are taking care of themselves. Isn't that one of the pivotal points of this whole human thing? We take care. We act gently. We ask constantly: how are you doing?
Because if there's one thing I'm learning from watching these DJ and Producer battles online, it's that when the turntable stops for a community of people, there is only one thing to do: extend your hand –metaphorically, or via Skype—and invite someone to stand with you until the next track drops a beat.
Elizabeth Acevedo
In a dual narrative novel in verse that brims with both grief and love, award-winning and bestselling author Elizabeth Acevedo writes about the devastation of loss, the difficulty of forgiveness, and the bittersweet bonds that shape our lives. Clap When You Land is available to preorder online now.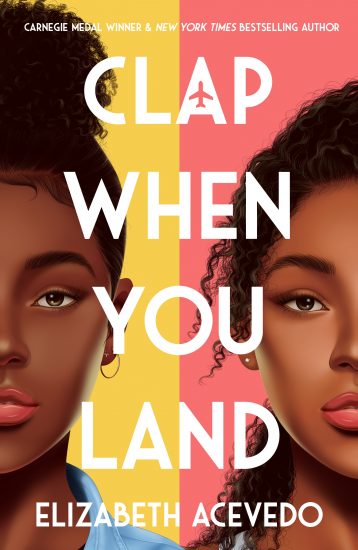 About the Book
The stunning new novel in verse from the 2019 Carnegie Medal winning and Waterstones Book Prize shortlisted author of THE POET X.
Camino Rios lives for the summers when her father visits her in the Dominican Republic. But this time, on the day when his plane is supposed to land, Camino arrives at the airport to see crowds of crying people…
In New York City, Yahaira Rios is called to the principal's office, where her mother is waiting to tell her that her father, her hero, has died in a plane crash.
Separated by distance – and Papi's secrets – the two girls are forced to face a new reality in which their father is dead and their lives are forever altered.
And then, when it seems like they've lost everything of their father, they learn of each other.
About the Author
Elizabeth Acevedo is the New York Times bestselling and 2019 Carnegie Medal winning author of THE POET X. She is also the winner of the 2018 National Book Award for Young People's Literature, The Printz Award for Excellence in Young Adult Fiction, the Boston Globe-Hornbook Award Prize for Best Children's Fiction and the Pura Belpré Award for a work that best affirms the Latinx cultural experience.
She holds a BA in Performing Arts from The George Washington University and an MFA in Creative Writing from the University of Maryland. Acevedo has been a fellow of Cave Canem, Cantomundo, and a participant in the Callaloo Writer's Workshops. She is a National Poetry Slam Champion and resides in Washington, DC with her partner.