Hot Key Haul

Welcome to the Hot Key Haul: our monthly giveaway, letting you top up your reading list with all the best books from Hot Key.
This month, we're giving away five copies of YOLO by Jess Vallance.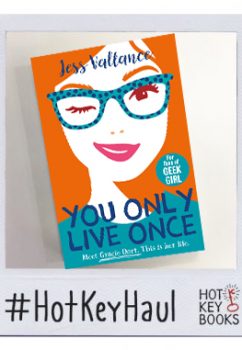 A fun, witty and wonderful read about taking risks and living that one life.
Gracie Dart has always worked hard and she's got a wall covered with revision timetables and French verbs to prove it.
But now GCSEs are behind her and she suddenly starts to think: what was the POINT of it all?
When Gracie thinks she's dying of a disgusting tropical illness, she starts to worry she's been wasting her best years being sensible.
It's like people say: you only live once – so isn't it about time she started LIVING?
(OK, so the tropical illness turned out to be a fake-tan miscalculation. Anyone could make the same mistake.) 
When Gracie decides to do something, she does it properly. Gracie Dart is about to live out her dreams. However embarrassing.
To be in with a chance to win a copy of this excellent novel, simply fill out the form below . . .
And don't forget to subscribe to our newsletter as well for monthly emails from the team with giveaways, new releases, events and other good things!