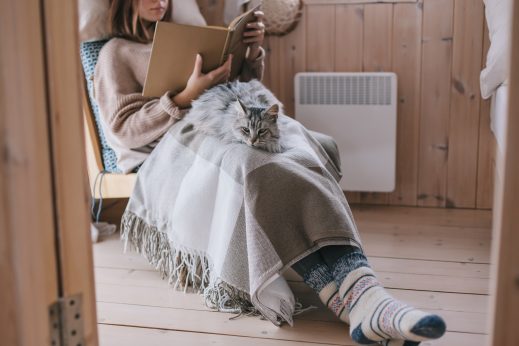 Travelling, socialising, even buying toilet paper may no longer be an option for you; but there is always one constant, a light in times of darkness and crisis, and that is reading!
During long periods of self-isolation, reading provides the perfect escape. Whether it's to the sun kissed beaches of St. Lucia, the great hall in Hogwarts, or even just a child-free (or partner-free) zone…
Everyone needs that place to escape reality, somewhere to curl up and feel safe, and we have created some tips and tricks for creating the perfect reading nook – a place that is yours and yours alone – the perfect environment to reduce stress…and the risk of divorce!
Find Sheldon's Spot
Do you have a place that you can call your own? Is it a comfy armchair? A bubble bath? Or maybe a cupboard under the stairs, or your shed at the end of the garden? What it needs to be is a place you feel comfortable, somewhere you can put your feet up and tuck yourself in for a long reading session. As soon as you find that special spot, get out your flag – or roommate agreement – and claim that spot as YOURS.
Make it COSY
Rule number one of a reading nook – no nook is uncomfortable and must be prepared for every temperature. Make sure to enshrine your nook with cosy throw pillows and blankets in case of extreme temperatures. Of course, the purpose of the reading nook is to READ – so make sure that you have lighting that allows for reading at all times, day or night. Whether this is using your bear bedside lamp called Burt, your child's creepy Peppa Pig nightlight, or by old school candlelight your nook needs to have enough light for those midnight reading sessions. We prefer to adorn ours with some scented candles and fairy lights for extra hygge.
Stock up on provisions
Do you have the necessary snacks to ensure that you won't have to leave your book for at least a few hours? Have you already panic eaten your way through that pack of chocolate digestives, or do you have some left? If so, take them to the reading nook! Everyone needs their own secret stash of comfort food – whether that's a pack of biccies, chocolate, or crisps – the sky's the limit, well, what was left in Tesco's is the limit! Hydration is half the battle. What do you want to quench that book thirst? Water, tea, hot chocolate…wine? If now's not the time for day drinking, we don't know what is…
Communication
There is no point creating a reading nook if it is to be invaded by spouses asking where their headphones are, children arguing about who gets to watch what on the TV, or your mum FaceTiming you to tell you her neighbour Bill's, cousin's wife – twice removed – has symptoms. So we recommend communicating to all possible *interrupters* that when you are in the reading nook no one is to bother you unless it's an emergency, or if you are out of chocolate (now would be the time to bury your reading nook provisions under your mountain of throw pillows.) And for all of those digital distractions whether that's mum, twitter, FB, or email – leave all phones and laptops outside of the designated nook area.
Books
Most importantly, no reading nook is complete without a good selection of reading material. Whether it's non-fiction, fiction, a fiction series you read a few years ago, a graphic novel, sci-fi, fantasy – read anything and everything that provides you some means of escape. Mental health is just as important as your physical health, and reading really does provide you with an opportunity to escape the stresses of everyday life and take a moment back for yourself.
If you do decide to create, or already have, a reading nook tag us in your pictures at @HotKeyBooksYA with the hashtag #ReadingNook.
If you need us we'll be in our reading nooks – stay safe – and remember when all else turns to sh** we always have books!