A lot of what writing is to me is about asking questions and trying to make sense of the world.
The initial idea for Cell 7 began with the question 'what is it like to live on death row?' That lead to another, and another until finally the premise for the book emerged.
For The Last Paper Crane it began with wanting to understand what happened and the human story behind it. We've all seen the famous photographs of the mushroom cloud and the girls running towards the camera, but I knew little more than that.
Growing up during the Cold War piqued that interest too; the underlying threat around us, the infomercials advising how to make a shelter from a household door, the music of the time such as Two Tribes by Frankie Goes to Hollywood, and the TV programmes like Threads.  At the time it both terrified and fascinated me.
A few years ago I stumbled on an article about the Hiroshima bombing that recommended a book 'Hiroshima' by John Hersey. I ordered and devoured it. It opened my eyes to the reality of the situation, and the lives of those involved. I ordered another, and another, and another, and as I immersed myself in it ever more as I discovered documentaries, articles, online museums, and I knew I had to write about it. I wanted to explore it, and to understand it.
A famous writer – and I forget who – once said that an author's job is to ask questions not to answer them, and in writing The Last Paper Crane I knew it was neither my job nor responsibility to look at the whys or wherefores. My focus was entirely on the people. People are stories, and stories are people.
The research was heartbreaking and shocking but it taught me a lot about courage, strength, and determination. What also shocked me was the world's capacity and ability for it to happen again. Would it? Could it? And I found myself wondering over again if people really remembered what happened, and really understood the suffering and the impact. That sat in my head subconsciously when I was thinking about the novel and planning it. I think that happens a lot – experiences, thoughts, feelings, emotions – seep into you as if you're a sponge, and when you're writing it's as if you're wringing all of that out onto the page.
And I think that happens on a long term basis as well as a short term one. I knew the final scene in The Last Paper Crane before I started writing it, and when I re-read on finishing the first draft it reminded me of a famous scene in The Railway Children – I shan't spoil it for you – it's understated but powerful. Did that sit in my subconscious and come out at the right time? Maybe. Is it as powerful? I hope so.
Writing it in different forms was challenging and frustrating at times. But it's good to challenge yourself as a writer. We shouldn't be static.
It's been an emotional journey bringing The Last Paper Crane from that very first glimmer of curiosity to the final finished novel sitting here next to me now. I never dreamt it would be coming out during such difficult times – who would? But I hope it offers something to those of you sitting at home with your families, or alone in isolation, or to those of you on the front line of this, whether that be a distraction, entertainment, or inspiration. And I hope this finds you well, and I hope for your safety and your futures.
Kerry Drewery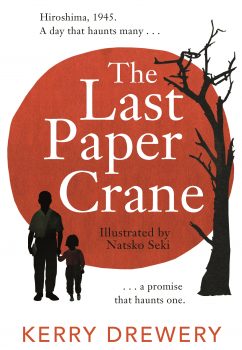 About the Book
The haunting story of a promise made long ago … a powerful novel set in contemporary Japan and in 1945, Hiroshima, the day the nuclear bomb was so devastatingly dropped on the city.
A Japanese teenager, Mizuki, is worried about her grandfather who is clearly desperately upset. He says that he has never got over something that happened in his past and gently Mizuki persuades him to tell her what it is.
1945, Hiroshima, and Mizuki's grandfather is a teenage boy chatting with his friend Hiro. Moments later the nuclear bomb is dropped. What follows is a searing account of the search for family and the devastation both human and physical. The two teenage boys search for and find Keiko, Hiro's five-year-old sister. Keiko is lost when Mizuki's grandfather has no option but to leave her in a safe place while he goes for help… Despite a desperate search in the aftermath of the bomb, where he leaves origami folded paper cranes for Keiko everywhere a survivor could be, he cannot find her… A powerful novel that, despite its harrowing subject matter, has hope at its heart.
About the Author
Kerry Drewery is the author of the CELL 7 trilogy, the first of which was shortlisted for the Lancashire Libraries Book of the Year 2018 and has been translated into more than a dozen languages, as well as two other highly acclaimed YA novels: A BRIGHTER FEAR, 2012 (which was Love Reading 4 Kids Book of the Month and shortlisted for the Leeds Book Award) and A DREAM OF LIGHTS, 2013 (which was nominated for the CILIP Carnegie Medal, awarded Highly Commended at the North East Teen Book Awards and shortlisted for the Hampshire Independent Schools Book Awards). Both were published by HarperCollins in the UK and Callenbach in The Netherlands.