The idea for A Phoenix First Must Burn started as so many things for me. I had been having a lot of conversations with friends, Dhonielle Clayton in particular, about the lack of Black-authored Science Fiction and Fantasy stories in YA. This was December 2017. The Hate U Give and Dear Martin had recently published with much success leading to a boom in contemporary YA fiction by Black people. But titles like Dhonielle's The Belles, Tomi Adeyemi's Children of Blood and Bone, and Justina Ireland's Dread Nation – all instant New York Times best-sellers ­– hadn't yet published. When recommending science fiction and fantasy YA novels by Black people, I found myself referencing the same few titles over and over again. It got me asking, where were we? Why didn't we exist in speculative fiction worlds?
Questions I'd asked myself all too often growing up. My parents made sure I had books with characters who looked like me growing up, but because of the extreme dearth of representation in children's books that still lead to most stories being focused on slavery, segregation, or sharecropping. I'm from the American South, so I grew up on folktales and legends and lore passed down from my grandparents to my parents to me. Why was the focus always on our pain? When I asked myself this again and again as a teen, I felt helpless, like there was nothing I could do about it. But when I asked myself this at twenty-five, I knew the answer: I would have to create it myself.
I decided on doing an anthology because much like Beyoncé's Lemonade, I wanted something that could be like a taste of many worlds, of many characters, but feel like one narrative, one connected thread that showcases Black (girl) magic and power. The title comes from Octavia Butler's Parable of the Talents as it was also important for me to harken back to those who've come before us, in this case Octavia Butler one of the greatest speculative fiction writers of all time, who also was a Black woman and so fiercely wrote for Black people.
Being a massive genre fiction nerd, as well as a children's book editor at the time, I decided to approach the creation of such an anthology as a fan. I asked the authors whose books I loved and were excited, friends who had only written contemporary novels but told me they'd always wanted to try writing fantasy, and some who hadn't published a novel yet but who had written short stories or other fiction I loved. I asked them to write me a story that centered a Black teen, that had to have some sort of science fiction or fantasy element, and that ended on hope. No matter how much they put their characters through, it was important for me that the stories end in hope. Growing up, there weren't enough stories featuring characters who looked like me who got to have happy endings, who weren't broken down and tired by the end of their tale. I'm the oldest of five—it is deeply important to me that we give something more to the next generation. I don't want my youngest sister who is ten to be asking these same questions, to be wondering why she doesn't exist in fantastic and futuristic worlds, to be wondering why access to magic can never be hers.
After developing a proposal for the project, my literary agent took it on submission, pitching it as Beyoncé's Lemonade meets Octavia Butler but YA. A Phoenix First Must Burn sold within a couple weeks at a 10-editor auction which was amazing to see. That showed that the interest was there, that publishers believed the readers were there (which of course so many of us Black writers already knew). Around the same time (February & March 2018) The Belles and Children of Blood and Bone published and hit the New York Times best-seller list proving that more than ever there is a space, that there are readers for stories like mine. And we went from there, doing rounds of edits to make sure each story was strong individually and, much like Beyoncé's Lemonade, read well together and created a narrative of stories touching on the Black experience and all its multitudes.
I love this anthology. It's the book I never imagined I'd create, in part because I never imagined something like this could find a publishing home. But I'm so grateful that it is and for the readers who've reached out telling me what it means to see themselves represented, sometimes for the first time.
Patrice Caldwell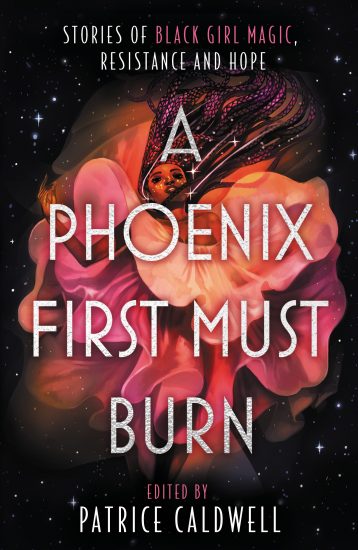 About the Book
Sixteen tales by bestselling and award-winning authors that explore the Black female experience through fantasy, science fiction, and magic.
Evoking Beyoncé's Lemonade for a YA audience, these authors have woven worlds to create stunning narratives that centre Black women and gender nonconforming individuals.
With fantasy, science fiction and magic at their core, the stories are sharp, atmospheric and visual explorations of histories, relationships and alternate universes that you can't help but to get lost in.
It will take you on a journey from folktales retold to futuristic societies and everything in between. Filled with stories of love and betrayal, strength and resistance, trauma and heroism, this collection contains an array of complex and true-to-life characters in which you cannot help but see yourself reflected. Witches and scientists, sisters and lovers, priestesses and rebels: the heroines of A PHOENIX FIRST MUST BURN are unforgettable and shine brightly.
About the Author
Patrice Caldwell is a graduate of Wellesley College and the founder & fundraising chair of People of Color in Publishing – a grassroots organisation dedicated to supporting, empowering, and uplifting racially and ethnically marginalised members of the book publishing industry. Born and raised in Texas, Patrice was a children's book editor before shifting to being a literary agent at Howard Morhaim Literary Agency.
In 2018, she was named a Publishers Weekly Star Watch honoree and featured on Bustle's inaugural "Lit List" as one of ten women changing the book world.
Visit Patrice online at patricecaldwell.com, Twitter @whimsicallyours, and Instagram @whimsicalaquarian.