Pre-order your copy of Robert Muchamore's Robin Hood for your chance to win a PS5!
Simply pre-order your copy of Robin Hood: Hacking, Heists and Flaming Arrows and email marketing@hotkeybooks.com with your proof of purchase to be in with a chance to win.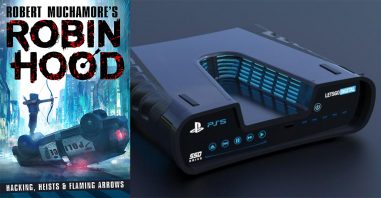 The closing date to enter is the 16th April 23.59 and subject to T&Cs. In the event that Sony delay the release of the PS5 you will instead receive a voucher to the equivalent of £500.
All you need to do to enter is send us proof of purchase, your name and address to marketing@hotkeybooks.com. T&Cs apply!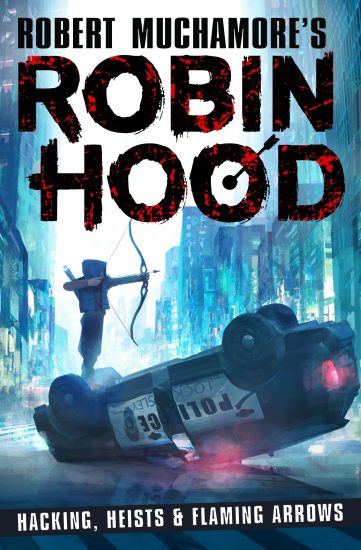 About the Book
A town. A forest. A hero. 

You can't go far without a quick brain and some rule-bending in a place like Locksley. After its vast car plants shut down, the prosperous town has become a wasteland of empty homes, toxic land and families on the brink. And it doesn't help that the authorities are in the clutches of profit-obsessed Sheriff of Nottingham, in cahoots with underworld boss Guy Gisborne.
When his dad is framed for a robbery, Robin and his brother Little John are hounded out of Locksley and must learn to survive in the Sherwood forest, stretching three hundred kilometres and sheltering the free spirits and outlaws. But Robin is determined to do more than survive. Small, fast and deadly with a bow, he hatches a plan to join forces with Marion Maid, harness his inimitable tech skills and strike a blow against Gisborne and the Sheriff.
About the author
Robert Muchamore's books have sold over 14 million copies worldwide, have been translated into 24 languages, and have been number one bestsellers in eight countries including the UK, France, Germany, Australia and New Zealand. Worldwide English language sales exceed 7 million copies, with 3 million copies sold in the UK alone.
To find out more about Robert Muchamore and his books,  go to www.muchamore.com.
T&Cs
To receive pre-order prize, a copy of proof of purchase must be emailed to marketing@hotkeybooks.com.
Only one entry per person. No entrant may win more than one prize. Winners must supply a name, address, and copy of receipt purchase/preorder of Robin Hood: Hacking, Heists and Flaming Arrows.
Subscription boxes to not count as a pre-order.
This competition is open to UK and Ireland residents 16+, or with parental permission and with the exception of employees of the Promoter, their families, agents and anyone else connected with this promotion.
Entries must be received by 23:59 GMT on 16th April 2020. The Promoter accepts no responsibility for any entries that are incomplete, illegible, corrupted or fail to reach the Promoter by the relevant closing date for any reason. Automatically generated entries or entries via agents or third parties are invalid and shall not be considered. Entries become the property of the Promoter and are not returned.
The prize is a PS5. In the event that Sony delay the release of the PS5 you will instead receive a voucher to the equivalent of £500.
In the event of unforeseen circumstances, the Promoter reserves the right (a) to substitute alternative prizes of equivalent or greater value and (b) in exceptional circumstances to amend or foreclose the promotion without notice. No correspondence will be entered into.
Entries are subject to verification and will be declared invalid if they are illegible, mechanically MV reproduced, mutilated, forged, falsified, altered or tampered with in any way. Entrants agree to abide by the Contest Rules and the decisions of the independent judging panel, which are final.
The prize is non-transferable, non-negotiable and non-refundable and the winner may not sell or offer the prize for sale or use it for any further competition, contest or promotion.
The Promoter will use any data submitted by entrants only for the purposes of running the prize draw, unless otherwise stated in the entry details. By entering this prize draw, all entrants consent to the use of their personal data by the Promoter for the purposes of the administration of this prize draw and any other purposes to which the entrant has consented.
The winners agree to take part in reasonable post event publicity and to the use of their names and photographs in such publicity or social media.
Promoter may disqualify any entrant whose entry does not comply with these terms and conditions (in Promoter's sole opinion) or who, in Promoter's sole determination, has acted in a manner that is fraudulent, dishonest or unjust to other entrants including, without limitation, tampering with the operation of the prize draw, manipulating or rigging votes, hacking, deceiving, cheating or by harassing or threatening other entrants or a representative of Promoter.
The Promoter is Hot Key Books, 80-81 Wimpole Street, London, W1G 9RE
By entering the prize draw each entrant agrees to be bound by these terms and conditions. These terms and conditions are governed in accordance with the laws of England and Wales.