We can't wait to delve into this action-packed instalment in the Robin Hood series from the bestselling author of CHERUB. The hero is back, there's rebellion in the air, and Robin Hood's name graffitied on every wall…Read on for chapter one in this epic sequel from Robert Muchamore.
Sherwood Forest stretched across the land, from Lake
Victoria to the swampy Eastern Delta. Twenty thousand
square kilometres, inhabited by bears, snakes, gigantic
crunchy-shelled bugs and a vast population of yellow
birds that lived nowhere else on Earth.

Estimates of Sherwood's human population varied
between thirty thousand and a quarter of a million, and
most of them were hiding from something. Bandits,
bikers, religious cults, terrorists, refugees and one twelve-year-
old boy with a £100,000 bounty on his head.

To find Robin Hood you had to travel eight kilometres
north from his birth town of Locksley, take a right off the
twelve-lane Route 24 expressway, then hike down a road
that had mostly been reclaimed by forest until you reached
the parking lots of Sherwood Designer Outlet Mall.

It was more than a decade since the sprawling mall sold
its last bargain kitchenware and discounted handbags.
Now the abandoned H-shaped shopping centre housed
a well-organised outlaw community, protected by trip
wires, motion alarms and armed guards stationed on a
precarious wooden observation tower.

Although it was just after one on a late spring
afternoon, Robin Hood had taken to his den on the
upper level of an abandoned sporting-goods outlet. The
den was eight by six metres, with walls made from wobbly
shop partitions. He sprawled face down on a musty but
comfortable mattress, buried under oversized cushions,
two duvets and a Berber rug.

Robin's bestie, Marion Maid, had been sent upstairs to
tell him lunch was ready. She only realised he was under
the mound of bedding because a couple of grubby toes
poked out.

'Hey, pal,' Marion said quietly, as she knelt by the bed.
'Everyone's about to eat.'

'Don't feel like it,' Robin said.

His words were clipped because he didn't want Marion
to hear that he was upset. Normally she'd have dived into
the cushions or grabbed Robin's ankle and tickled his
foot. But today was different.

'I'm really sorry about your dad,' she said.

'I can't even visit him without getting busted,' Robin
complained. 'My mum's dead. And my big brother is living
in luxury at Sherwood Castle with his new mommy.'

'You've got me,' Marion said. 'And everyone here has
your back.'

Robin didn't respond, so she tried a different tactic.
Unfortunately it came out sounding grumpier than she
meant it to.

'What are you gonna do? Stay under that mound of
covers for the rest of your life?'

'I can try,' Robin snapped back.

'If you can't face everyone, how about I bring a plate
up? This afternoon we can watch a movie on Netfl ix.
Take your mind off things.'

'Internet's down,' Robin said. 'And there's nothing to
do. I'm totally bored and I'm not allowed out of the mall.'

'What are we supposed to do? With a hundred-thousand
bounty on your head, every scumbag in Sherwood Forest
will be after you.'

Marion watched the mound of covers shift slightly.
Dust billowed as the rug slid onto the floor and she smiled
as Robin sat up, sweaty and shirtless. His eyes were gluey
from crying and his hair was even messier than usual.

'What's funny?' Robin asked, as he stretched and
yawned.

'You look adorable,' Marion teased, as she spotted
Robin's T-shirt on the floor and flicked it towards him.
'Like a lost puppy.'

'I'm actually kinda starving,' Robin admitted, a bit
more cheerful as his head popped through the neck hole
of his shirt.

'You're always starving,' Marion said.

'Growing boy,' Robin said, slapping his belly, then
creasing up his nose. 'Why do you stink of fish?'

'Went fishing with my cousin Freya,' Marion said, as
she sniffed her hoodie. 'Must have got splattered when
we were gutting them.'

Robin looked sour as he stood up. 'Thanks for inviting
me.'

'We didn't invite you cos you can't leave the mall without
guards,' Marion said, as Robin pulled on wrecked Vans.
'I can't hack another week sitting around here, with
nothing but schoolwork and your aunt Lucy's sudoku
books,' Robin said. 'I need an adventure – like busting my
dad out of jail.'

Marion laughed. 'We're twelve, and Pelican Island is
the most secure prison in the country. So ten out of ten
for ambition, but a fat zero for practicality.'
'So I sit around here, getting older, doing nothing?'
'We get bossed around by grown-ups, do boring
schoolwork and try to have fun when we can,' Marion
said. 'That's basically what being a kid is.'

'Who wants to be an ordinary kid?' Robin asked
determinedly as he grabbed the carbon-fibre bow hooked
on the wall beside his bed. 'I'm not ordinary, I'm Robin
Hood.'

Marion cracked up laughing as she opened the den's
wobbly wooden door.

'What's funny?' Robin asked.
'You,' Marion laughed. 'You're so full of it!'
Robin and Marion are back! Second in the brand-new, action-packed series from international bestseller Robert Muchamore. Preorder Robin Hood: Piracy, Paintballs & Zebras here. Get Robin Hood: Hacking, Heists & Flaming Arrows here.
Praise for Robin Hood: Hacking, Heists & Flaming Arrows:
'Strikes the bullseye' – Times
'Intensely readable, outrageously enjoyable action.' – Guardian
'Witty characters, clever twists, and high-tech gadgetry.' – Daily Mail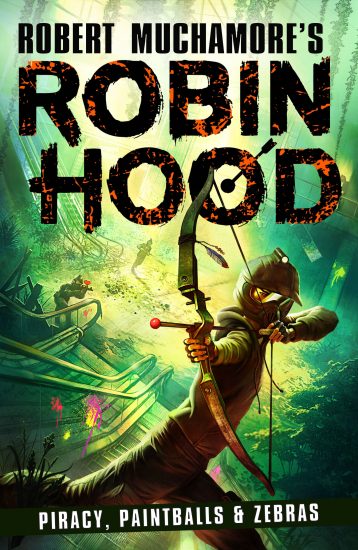 About the Book
Robin Hood lives…
When Clare Gisborne and Little John return to school after the Locksley Riot, there's rebellion in the air and Robin Hood's name graffitied on every wall. Power dynamics are shifting – now, instead of being a feared bully, the daughter of Locksley's most hated criminal finds herself shunned by classmates and pelted with yoghurt and rotting fruit.
Meanwhile at Sherwood Designer Outlets, Robin has plans of his own. He is determined to hack Sheriff Marjorie's office so that the rebels know her every move – and to work with animal rights activists to end a cruel trophy hunt inside the grounds of Sherwood Castle…
About the Author
Robert Muchamore's books have sold over 15 million copies worldwide, have been translated into 24 languages, and have been number one bestsellers in eight countries including the UK, France, Germany, Australia and New Zealand. Worldwide English language sales exceed 7 million copies, with 3 million copies sold in the UK alone. For more information about Robert and his books, go to www.muchamore.com.