Yesterday we published Clap When You Land, the second poignant, powerful and passionate novel in verse from the 2019 Carnegie Medal winning author of The Poet X and With the Fire on High: Elizabeth Acevedo. Today we wanted to give you a sneak peek into the novel…because it is just that good!
Papi was not here in Sosúa the day that I was born.

Instead, Mamá held her sister Tía Solana's hand when she was dando a luz.

I've always loved that phrase for birthing:

dando a luz                            giving to light.

I was my mother's gift to the sun of her life.

She revolved around my father,

the classic distant satellite

that came close enough to eclipse her once a year.

But that year, the one I was born, he was busy

in New York City. Wired us money & a name in his stead.

Told Mamá to call me Camino.

Sixteen years ago, the day I was born, was light-filled.

Tía has told me so. It is the only birthday Papi ever missed.

A bright July day. But it seems this year he'll miss it too.

Because the people at the airport are wailing, crying,

hands cast up:              it fell, they say. It fell.

They say the plane fell right out the sky.
In a dual narrative novel in verse that brims with both grief and love, award-winning and bestselling author Elizabeth Acevedo writes about the devastation of loss, the difficulty of forgiveness, and the bittersweet bonds that shape our lives. Clap When You Land is available to purchase online now.
Prefer to listen along? Here's a sample of the fantastic audiobook: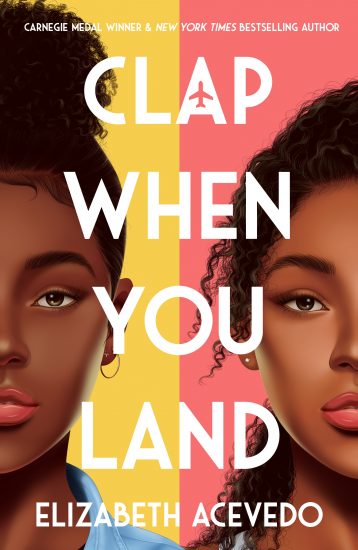 About the Book
The stunning new novel in verse from the 2019 Carnegie Medal winning and Waterstones Book Prize shortlisted author of THE POET X.
Camino Rios lives for the summers when her father visits her in the Dominican Republic. But this time, on the day when his plane is supposed to land, Camino arrives at the airport to see crowds of crying people…
In New York City, Yahaira Rios is called to the principal's office, where her mother is waiting to tell her that her father, her hero, has died in a plane crash.
Separated by distance – and Papi's secrets – the two girls are forced to face a new reality in which their father is dead and their lives are forever altered.
And then, when it seems like they've lost everything of their father, they learn of each other.
About the Author
Elizabeth Acevedo is the New York Times bestselling and 2019 Carnegie Medal winning author of THE POET X. She is also the winner of the 2018 National Book Award for Young People's Literature, The Printz Award for Excellence in Young Adult Fiction, the Boston Globe-Hornbook Award Prize for Best Children's Fiction and the Pura Belpré Award for a work that best affirms the Latinx cultural experience.
She holds a BA in Performing Arts from The George Washington University and an MFA in Creative Writing from the University of Maryland. Acevedo has been a fellow of Cave Canem, Cantomundo, and a participant in the Callaloo Writer's Workshops. She is a National Poetry Slam Champion and resides in Washington, DC with her partner.