Rule number one of being a woman from Trinidad: be hella fierce.
Fight Like a Girl by Sheena Kameel is a fierce, powerful and compulsive new contemporary YA novel, and it's out now!
We wanted to share a teaser from the book with you to give you a taste of Trisha and her story…
I know that people don't like going to funerals, but this is something else. There's almost nobody here for Dad's cremation service. Some distant relatives, a few of Ma's colleagues and a handful of acquaintances. Whose acquaintances, I have no idea. I've never seen these people before in my life. Dad's rum shop friends couldn't even peel themselves off their barstools long enough to show up in the afternoon?

What the what.

Somehow, in the middle of the service, Ma senses my mind wandering and sends me a glare that could cut a lesser person with its sharpness. But I'm used to her stabby looks, so it just comes as a warning to sit there and behave, and fold my hands in my lap, and pretend that I like to wear a dress for some reason.

I tried to get away with my black jeans that show off the thick muscles in my legs, but I got a good old Caribbean slap upside the head for that. Ma wasn't having any of it today, of all days.

When she was about to say goodbye to the love of her life (gag). As the service drags on, I should one hundred percent be thinking about my dad and how he died, but I can't bring myself to do it. What I do instead is replay the disastrous events of my last fight. I guess I look dazed because Ma pinches my arm and mutters, "Trisha, don't make me break something over your head, girl. Have some respect!"
Let us know what you think of Fight Like a Girl on GoodReads, Amazon or NetGalley.
Fight Like a Girl is published on 10th March 2020.  Order your copy today.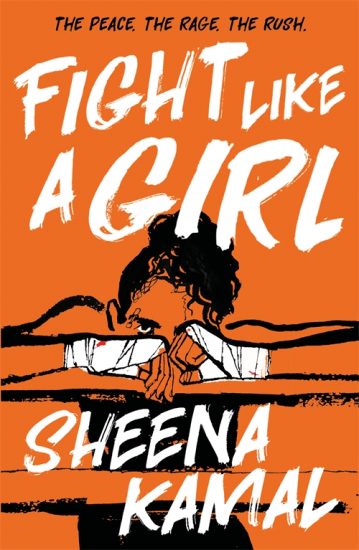 About the Book
It's been a month since Trisha's dad was killed, wandering out drunk in front of the car Trisha is driving, and her mother grabs the wheel. To try to avoid him? To try NOT to avoid him? Trisha doesn't know exactly what happened that night, but she's afraid it's going to happen again …
Love and violence. In some families they're bound up together, dysfunctional and poisonous, passed from generation to generation like eye colour or a quirk of smile. Eighteen-year-old Trisha's trying to break the chain, channelling her violent impulses into Muay Thai kickboxing, an unlikely sport for a slightly built girl of Indian descent. She's the Canadian daughter of Trinidadian parents, whose own ancestors came over as indentured servants from India, replacing the Africans in the sugar fields after slavery was abolished. All that love and violence, identities warped and lost, passed on to her family, played out in every punch her father lands on her mother. Until the night he wanders out drunk in front of Trisha's car, and everything changes for ever..
About the Author
SHEENA KAMAL's debut novel Eyes Like Mine won the 2018 Kobo Emerging Writer Prize, a Strand Magazine Critics Award, and Macavity Award for Best First Novel. It has been sold in fifteen countries and was a Globe and Mail Bestseller, a TIME Magazine Recommended Read, an iBooks Best Book, a Bustle Best Book, and a Powell's Pick. Her other books include It All Falls Down and No Going Back. Kamal divides her time between Vancouver and Toronto. Visit her website at www.sheenakamal.com.