'Only one thing is more powerful than a wish, and that is a purpose.'
Raybearer by Jordan Ifueko is a brand new epic fantasy publishing August 18th – check out a sneak peek below, we can guarantee you're going to want to read the whole thing.
I'm in bed at Bhekina House, I told myself. My heart pounded like a fist on a goatskin drum. I bit my cheek to prove I was dreaming. I'm wrapped in gauzy mosquito nets and the servants are fanning me with palm fronds. I can smell breakfast in the kitchens. Maize porridge. Stewed matemba fish . . .

But my cheek began to throb. I was not in bed. I was lost in the balmy Swanian grasslands, and this man was made of flames.

"Hello, Tarisai." His Sahara breath warmed my beaded braids. "Just where do you think you're going?"

"How do you know my name?" I demanded. Were alagbatos all-knowing, like Am the Storyteller?

"I am the one who gave it to you."

I was too angry to absorb this reply. Did he have to be so bright? Even his hair shimmered, a luminous thicket around his narrow face. If our compound guards spotted him . . .

"I'm not allowed to be touched," I snapped, clawing at the alagbato's grip. His skin felt smooth and hot, like clay left to harden in the sun.

"Not allowed? You are small enough to be carried. I am told human children need affection."

"Well, I'm not human," I shot back in triumph. "So put me down."

"Who told you that, little girl?"

"No one," I admitted after a pause. "But they all say it behind my back. I'm not like other children."

This was possibly a lie. The truth was, I'd never seen other children, except in the market caravans that passed Bhekina House from a distance. I would wave from my window until my arms grew sore, but they never waved back. The children would stare straight past me, as if our compound-manor, orchard, and houses enough to make a small village— were invisible to anyone outside.

"Yes," the alagbato agreed grimly. "You are different. Would you like to see your mother, Tarisai?"

I stopped resisting at once, and my limbs hung limp as vines. "Do you know where she is?"

My mother was like morning mist: here, then gone, vanished in clouds of jasmine. My tutors bowed superstitiously whenever they passed her wood carving in my study. They called her The Lady. I delighted in our resemblance: the same high cheekbones, full lips, and fathomless black eyes. Her carving watched as my study brimmed with scholars from sun-up to moonrise[…]

The tutors plied me with riddles, shoving diagrams into my hands.

Can she solve it? Try a different one. She'll have to do better than that.

I didn't know what they were looking for. I only knew that once they found it, I would get to see The Lady again.
Let us know what you think of this book, the start of an incredible duology, on GoodReads, Amazon or NetGalley.
Raybearer is publishing April 18th 2020.  Order your copy today.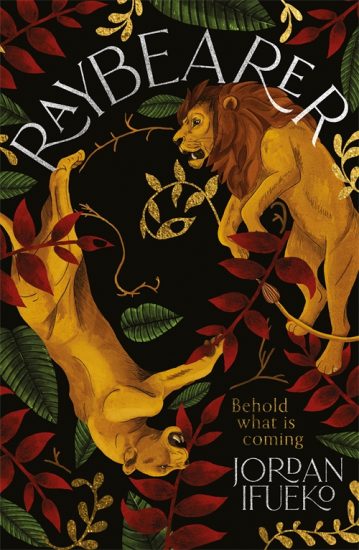 About the book
'Only one thing is more powerful than a wish, and that is a purpose.'

Tarisai has always longed for the warmth of a family. She was raised in isolation by a mysterious, often absent mother known only as The Lady. The Lady sends her to the capital of the global empire of Aritsar to compete with other children to be chosen as one of the Crown Prince's Council of Eleven. If she's picked, she'll be joined with the other Council members through the Ray, a bond deeper than blood. That closeness is irresistible to Tarisai, who has always wanted to belong somewhere. But The Lady has other ideas, including a magical wish that Tarisai is compelled to obey: kill the Crown Prince once she gains his trust.
Tarisai won't stand by and become someone's pawn – but is she strong enough to choose a different path for herself?
About the Author
Jordan Ifueko is a Nigerian American writer who grew up eating fried plantains while reading comic books under a blanket fort. She now lives in Los Angeles with her husband and their collection of Black Panther Funko Pops. Raybearer is her debut novel.