We are so excited for the publication of The Colours That Blind by Rutendo Tavengerwei, author of the 2019 Carnegie nominated Hope Is Our Only Wing, that we decided to give you an early look inside this breathtaking teen novel set in Zimbabwe about freedom, inter-generational friendships and forgiving the past.
If sleep is meant to summon peace and rest, then why does mine hunt down dead memories and haul them back to me like a cat with prey?

It's the same every night. The scars are the first thing I see, and when I do, it feels as though it is happening again. They are always so vivid. Clawed onto a face. A man's face, a woman's face, sometimes no particular face. Burrowed deep in skin and smeared with charcoal.

Then that strong smell, flooding my nose and choking the breath out of me. It terrifies me, how real it feels.

I whisper a prayer, like I do every time I realise I have escaped my terrors and that it was the alarm ringing, not clucking chickens, that woke me.

It takes me a minute to put myself together. But it's OK. I've shaken all of that off now and it's time to go win a race.

Let's do this!
Stormzy's rippled rap is now blasting through the double bass of my headphones as I walk to the mirror fitted in the middle of my wardrobe. I stare blankly at my reflection.

My tie looks too tight, tucked into the nook of my shirt as though I'm about to hang.

It's ridiculous, given that I'll take it off in a bit, but today I need to look like a winner. And winners don't look as if they're trying too hard. I loosen it a little and step back, craning my neck to see if there's an angle where I like my reflection better. I take in a deep breath and my eyes lock with the brown ones of the pale figure in the mirror. My lip curls slightly. It's usually at this point that I remember why the horrors keep visiting me at night. I still look the same way. And that is the problem.
The Colours That Blind publishes 14 May 2020. Order it now from Hive, Waterstones or Amazon.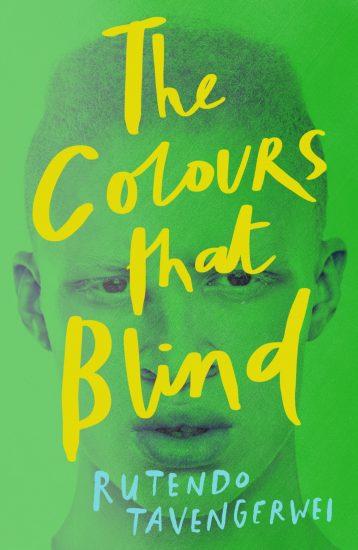 About the book
Tumi desperately wants to make the Zimbabwean national swimming team. Only in swimming does he escape the hatred and exclusion that his albinism brings him. But when he has to stay with his grandmother for a while, the trauma of the terrible thing that happened to him comes rushing back.
Can Ambuya reassure Tumi by revealing her own shocking past – a story riddled with racial hatred in war-torn Rhodesia, featuring murder and an illegal love? And what of Tumi's suspicions that she was involved in his nightmare?
About the author
Rutendo Nomsa Tavengerwei lived and studied in Zimbabwe until the age of eighteen, when she moved to South Africa to study Law at the University of the Witwatersrand. She has just completed a Masters at the World Trade Institute, and is now working at the World Trade Organization in Geneva, Switzerland.
Hope Is Our Only Wing was her debut novel – and The Colours That Blind is her second novel. You can find her online on twitter at @ruruwrites.