The best (non-book) Christmas gifts for the favourite reader in your life..
Looking for an alternative gift to a novel? Treat your favourite bookworm to one of these festive stocking fillers..
For – The Feminist Friend
This top tote bag featuring female trailblazers such as Michelle Obama, Frida Kahlo and Malala Yousafzai is the perfect present to celebrate some serious Girl Power. The ideal place to keep her (or his) copy of Women in Battle.  They can also stock up on Girl Gang stickers, laptop sleeves and phone covers.
Feminist Girl Gang – Squad Goals £11.40 from Redbubble
For – the Kitsch Companion
There's no place like home .. and they'll never lose their place in a book again thanks to this fabulous Wizard of Oz inspired bookmark. Could come in handy when they're racing through STAGS.
Wicked Witch bookmark – £9.99 from Etsy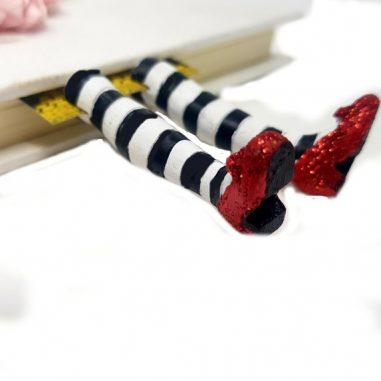 For…the Control Freak
We all (well some of us) love to share our books with friends– but there's a special place in hell for those who don't return them. Fear not – this cool personal library kit will help keep track of your beloved personal collections and channel your inner librarian. Stamp your copy of Spellslinger4: Soulbinder to ensure it is brought back safe and sound.
Personal Library Kit – £9.99 Amazon
For..the Out and Proud Bookworm…
These beautiful badges are the ultimate Christmas stocking filler for that special someone who wants their literary love adorned on every possible surface – maybe even on their cover of You Only Live Once
Book badges, buttons and pins from £1.80 – Zazzle
For ..the Budding Writer
This gorgeous holographic rainbow journal should inspire even the shyest of potential authors to start jotting down ideas for a bestselling book like Killer T.
£12 – Paperchase
HAPPY CHRISTMAS FROM EVERYONE AT HOT KEY!