This week is Mental Health Awareness week. In Yasmin Rahman's incredible novel 'All The Things We Never Said,' three young girls- Mehreen, Cara and Olivia- struggle with mental health issues. Mehreen refers to her depression as her Chaos, the dark thoughts that slip in when she's feeling her most vulnerable. Through the power of friendship, the three girls make strides to overcoming their mental health issues.
In the book, Olivia's section is written in verse. Yasmin has written about her experiences with her own Chaos below.
Me and my Chaos: A Journey
Me aged 14
I don't remember exactly when the
Chaos
first started,
but I do remember
not understanding
any of it.
I remember
Googling
Why do I feel sad all the time for no reason?
and finally learning the word
D E P R E S S I O N
I remember
stealing a craft knife from art class
and finding the relief I craved
(straight after, came the
shame
regret
pain)
I remember
walking past the counsellor's office at school,
wanting
to go in,
but feeling stupid.
There's nothing wrong.
It'll pass.
She'll tell me it's just hormones.
There's no point.
Me aged 16
I'd always been
Cautious
Paranoid
An overthinker.
There'd always been a
buzzing
in my head.
Thoughts crashing into one another,
overlapping one another.
Never a quiet moment.
I remember a conversation with a friend,
asking whether she had the same.
'No. All I really think about is what I'm having for dinner tonight.'
I thought
ANXIETY
was just a thing everyone had,
that it just meant being
Cautious
Paranoid
An overthinker.
I didn't realise the Chaos wasn't normal,
that it was an illness.
Me aged 19
I studied a module on Children's Literature
during my undergraduate degree.
In my seminar, people talked
animatedly
about their favourite childhood books.
I stayed silent,
having not read much as a child.
We were assigned books for class,
and I wish
I wish I could remember which book it was
that lit the spark
that made me seek out more
and more
and more
books for Young Adults.
I wish I could remember which book I first read
after Googling
YA books about mental health,
because I owe
SO MUCH
to that book.
Me aged 21
I read
and read
and read
more of these books,
feeling completely
overwhelmed
that
SOMEONE GOT IT.
Someone managed to put into words
how I felt.
(Well, almost –
Where were all the Muslims?)
Me aged 23
I don't know how the conversation came about,
but I opened up
for the very first time
about everything in my head,
about what I now realised was a
mental illness
to my best friend of ten years.
Turns out, she suffered too.
I had thought she was the most put-together person ever.
I never knew.
I never thought to ask.
We made a deal,
to always come to each other,
to always talk it out,
to be each other's person.
Me aged 25
I took a CBT course with the NHS.
(God bless the NHS.)
I learned how to
question
my anxious thoughts,
how to
challenge
them.
I learned about mindfulness
and other coping techniques.
I found a counsellor,
spoke to her for an hour a week,
used up all her tissues.
I stared out of her window a lot
because eye contact was too much.
But I told her
all the things
that came into my head,
regardless of whether they made sense or not.
I talked a lot to my friends about it too.
I had a bad day today.
Can I tell you about it?
None of this was a cure,
but it helped.
It still helps.
It quietens the Chaos,
even if just for a little while.
Me aged 26
I wrote a book.
A book about a girl like me,
who had her own Chaos,
who didn't know how to cope,
who felt completely desperate.
I wrote about these two other girls
who came into her life,
and changed it forever.
Just like this book changed mine.
I wrote about the need to be more
O P E N
about mental health,
to stop making it taboo.
I wrote about how even just reaching out and asking
How are you doing?
can make a big change.
I wrote a book,
hoping that someone out there
could find the solace I once found
in books like this.
I wrote a book
to let people dealing with a mental illness know
they're not alone,
there's help out there
that this does not define them.
That they can get through this.
Maybe not through,
I don't know that there's ever a 'through'.
But I'll settle for coping.
That'll do for now.
All the Things We Never Said publishes 11th July.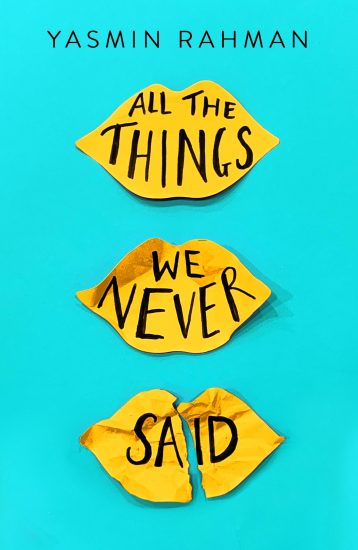 If you're struggling with your mental health, don't be afraid to reach out for help. Below are some resources. 
Samaritans
Confidential emotional support for anyone in emotional dis-tress, struggling to cope or at risk of suicide. Lines open 24/7.
Call free on 116 123 or visit www.samaritans.org
Childline
A private and confidential service for young people up to age 19. Counsellors available to talk about anything.
Call free on 0800 1111 or talk online at www.childline.org.uk
YoungMinds
Mental-health support for young people, including a free 24/7 crisis text-messaging service.
For urgent help, text 'YM' to 85258 or visit www.youngminds.org.uk
NSPCC
The UK's leading charity helping children who have experienced abuse, including sexual abuse.
www.nspcc.org.uk
The Survivors Trust
Offering support, advice and information to those affected by sexual abuse.
Free confidential helpline: 0808 801 0818 or visit www.thesurvivorstrust.org
Harmless
Resources and advice for those who self harm.
www.harmless.org.uk
Hope Again
Offers help to young bereaved people.
Call free on 0870 808 1677 or visit www.hopeagain.org.uk