Hot Key Haul

Welcome to the Hot Key Haul: our monthly giveaway, letting you top up your reading list with all the best books from Hot Key.
This month, we're giving away five copies of Women In Battle by Marta Breen & Jenny Jordahl.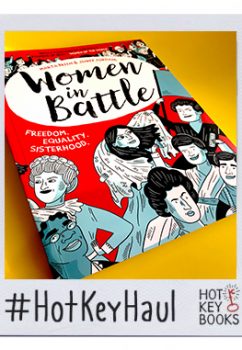 Freedom.
Equality.
Sisterhood. 
 Women In Battle is the book for anyone who wants to learn as much as possible about the history of feminism in as short a time as possible.

Presented as a graphic novel and spanning 150 years of recent history, this book celebrates the fight for women's rights all over the world.
Topics include the suffragette movement, female world leaders, abortion and contraception, gay marriage and #MeToo.
Slowly but surely we are making progress. We need only dare to be heard.
To be in with a chance to win a copy of this amazing book, simply fill out the form below . . .
And don't forget to subscribe to our newsletter as well for monthly emails from the team with giveaways, new releases, events and other good things!