Madeline, the protagonist of Perfectly Preventable Deaths, lives in a world where magic is possible. Not the wand-bearing, charm-spouting magic of wizards and witches, but a more earthy, instinctive magic. Sometimes she wakes up, and needs to gather salt, or pick some green sage or mint, or gather rusty nails or something else, that only flashes through her at that moment.
And she has, in the way that women are, that witches are, that people with mental illness are, been shamed for the way she is by people who are supposed to care for her. She has internalised that sense of not being right, of not being the way that she should be. Shame is easy to summon and hard to exorcise.
Madeline doesn't trust herself. She worries more about pleasing other people than protecting them, and is keen to avoid conflict. She doesn't trust her voice enough to speak out when she should. To keep on speaking up, asking, demanding.
As well as having magical ability, Madeline is a lesbian. When she realises that about herself, it's freeing. The skin fits. Of course, it comes with a whole range of other problems, coming out, falling in love. But she has started knowing what she wants and who she is on a deeper level and that all by itself is an achievement. When you take the time to check in with yourself, you're allowing yourself to matter.
Because you matter.
When Madeline begins to trust herself, she realises what she can accomplish. As a sister, daughter, lover and a witch. She can't have everything she wants, but she can live inside a skin that fits her. She can name her power. And that's what witchcraft can do. Many of the things we associate with the arcane and the occult are simple tools for self awareness.
Lighting a coloured candle to set an intention. To name the thing you're working for or want.
Drawing a tarot card a day can be a way to allow you to look at and name the forces around you, and within yourself.
You don't have to know every meaning, to do this. Your intuition is more powerful than any explanation in a book. Because it's yours, and yours alone. And what the cards mean to you, and what you mean to yourself will shift and change as you gain more experience and confidence, and learn more about what you're capable of achieving and surviving.
And the more you know yourself, the easier it becomes to read other people. Our instincts are a kind of magic. We can't explain why sometimes we don't like a person, or feel unsafe in a situation, but eventually our brains catch up to what our bodies already know.
Madeline's brand of witchcraft comes from listening to herself. Indulging the weird urges and specific needs that she has. With witchcraft, you can't follow a recipe from someone else, and get the same result. Because you are one of the ingredients, and what you bring is utterly your own. There is no one else who lives inside your skin, who has walked the exact same path as you. We are on a shared journey, but many parts of it are walked alone. And if you don't know yourself or like yourself, those bits are going to be so very hard and lonely for you. Particularly if you're marginalised.
I come from a country where until recently, people who could get pregnant were denied bodily autonomy. I come from a country where activists spoke out for over three decades until finally their voices got so loud that politicians had to listen. And until last week, Northern Ireland was on a different version of that same journey.
In this world where those who speak out against predators and inequality are routinely shamed and dismissed for their bravery, where the voices of teenage girls speaking truth to power are shamed by adults who resent the truth, knowing yourself and listening to that person is important.
One voice in a room, standing up to a monster, becomes two, becomes three, becomes a thousand. In fairy lore and stories about demons, the power of naming something that terrorises you is often a step towards defeating or banishing it. And how much more powerful that naming can be when there are other witches by your side.
If a crystal in your pocket can stop your hands from shaking, if a candle in the window can make you remember those you've loved and lost, a name upon a burning piece of paper, a poem, a song or spell can make you braver, do the thing that offers you that courage. That sense of who you are and what you need.
Hope is a candle on a windowsill. A desire for the change you want to see. And hope is something Madeline clings to again and again over the course of Perfectly Preventable Deaths. I wish you hope, however and wherever you find it.
Because magic is possible here too.
Deirdre Sullivan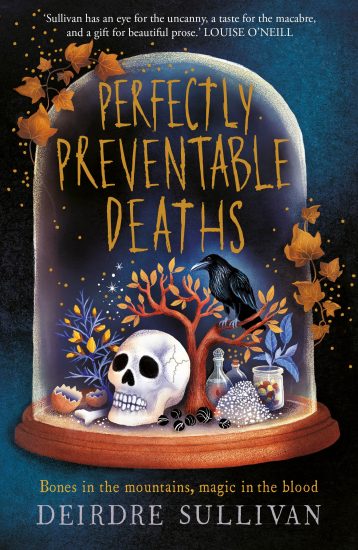 About the Book
Sixteen-year-old twins Madeline and Catlin move to a new life in Ballyfrann, a strange isolated Irish town, a place where the earth is littered with small corpses and unspoken truths. A place where, for generations, teenage girls have gone missing in the surrounding mountains. As distance grows between the twins – as Catlin falls in love, and Madeline begins to understand her own nascent witchcraft – Madeline discovers that Ballyfrann is a place full of predators. And when Catlin falls into the gravest danger of all, Madeline must ask herself who she really is, and who she wants to be – or rather, who she might have to become to save her sister.

'This is the novel the recent Sabrina reboot wishes it could be – a thrilling, eerie exploration of sisterhood, first love and dark powers hiding out of sight.'  Dave Rudden
'Sullivan's prose bewitches in a tale featuring dark magic, supernatural predators and a plot worthy of Angela Carter.'  The Observer
'This intoxicating, skilfully crafted novel laced with sisterhood, first love and witchcraft is sure to entice fans of Angela Carter or Melissa Albert's The Hazel Wood.'  The Bookseller
About the Author
Deirdre Sullivan is a writer from Galway. Her books include Prim Improper, Improper Order and Primperfect, which was the first YA novel ever to be shortlisted for the European Prize for Literature. Her 2016 novel Needlework was awarded a White Raven and the CBI Honour Award for fiction. Deirdre's most recent book, Tangleweed and Brine, a collection of dark fairy-tale retellings, won an Irish Book Award for Best Young Adult Book of the Year 2017.