For Alyrra, choice is a luxury she's never had… until she's betrayed.
Thorn by Intisar Khanani is a magical slow-burn romance, based on The Goose Girl fairytale by the Brothers Grimm. We wanted to share a little sneak peek of this gorgeous YA fantasy with you…
"What do you seek now that cannot wait till my arrival?" Or even just till daylight, a place other than my darkened bedroom.

"I wished to see you myself," he explains. "To warn you." He crosses the room to the shuttered window, faces it silently before turning back to me. "Menaiya has many enemies, my lady. Now that you belong to Menaiya, those enemies are yours. You will need to be careful these next weeks. The king can offer you only so much protection until you reach his walls."

I swallow to ease the sudden dryness of my throat. "Menaiya is feared by its neighbors."

"Rightfully so," he agrees, and again amusement lightens his words. "But I do not speak of our neighbors."

"Then whom do you mean?"
He hesitates. "I cannot say—not here. Not now."
A shiver runs under my skin. How can I protect myself from a phantom?
"You must beware, lady," he continues, voice grim. "Do not put yourself in a vulnerable situation. Do not walk alone. Do not remain with anyone you do not trust."
And I am to trust him? Whom I do not know at all, and who has put me in such a situation himself? Indeed. Tamping down on my disbelief, I say instead, "I don't even know who I will travel with to Menaiya." Except for Valka, whom I certainly don't trust. "How can I avoid them?"
"Be vigilant," he presses. I wonder if he even heard me. "Do you understand, my lady? You are in danger until you reach the city of Tarinon. Even there, you may not truly be safe."

No. I will have the prince to worry about, and a court more powerful and sophisticated than mine, and no one who speaks my language but the king, his captain, and a nameless man with veiled warnings. No wonder the king promised me safety from my brother but nothing else. My brother, it seems, will be the one thing that can't reach me in Menaiya.

Without warning, the shutters crash open, wood shrieking as they break, panels flying into the room. The man cries out, spinning toward the window, one hand rising, palm out. The splinters slam against the air before him as if into an invisible barrier, then ricochet toward the far wall. Light explodes through the gaping window, outlining the mage's profile in blazing white, momentarily blinding me.
Let us know what you think of Thorn on GoodReads, Amazon or NetGalley.
Thorn is published on 24th March 2020.  Order your copy today.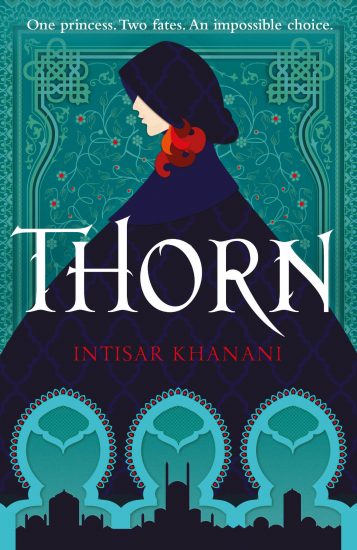 About the Book
Alyrra has never enjoyed the security or power of her rank. Between her family's cruelty and the court's contempt, she has spent her life in the shadows. Forced to marry a powerful foreign prince, Alyrra embarks on a journey to meet her betrothed with little hope for a better future. But powerful men have powerful enemies – and now so does Alyrra.
Betrayed during a magical attack, her identity is switched with another woman's, giving Alyrra the first choice she's ever had: to start a new life for herself or fight for a prince she's never met. But Alyrra soon finds that Prince Kestrin is not at all what she expected. While walking away will cost Kestrin his life, returning to the court may cost Alyrra her own. As Alyrra is coming to realise, sometimes the hardest choice means learning to trust herself.
Inspired by The Goose Girl fairytale by the Brothers Grimm.
About the author
Intisar Khanani grew up a nomad and world traveller. Born in Wisconsin, she has lived in five different states as well as in Jeddah on the coast of the Red Sea. She currently resides in Cincinnati, Ohio, with her husband and two young daughters. Prior to publishing her novels, Intisar worked as a public health consultant on projects relating to infant mortality and minority health, which was as close as she could get to saving the world. Now she focuses her time on her two passions: raising her family and writing fantasy.
Find out more about Intisar Khanani at booksbyintisar.com or on Twitter: @BooksByIntisar or Facebook: Booksbyintisar