"A quietly profound and beautiful fairytale retelling that I'll be recommending for years."
– S.A. Chakraborty, author of City of Brass
On March 24th we published the magical Thorn by Intisar Khanani.
To celebrate, we're offering some amazing Thorn goodies to everyone who who pre-orders/orders a copy of Thorn before April 6th at 23.59.
Here's what's up for grabs:
Physical goodies:
A Signed Bookplate
A Thorn Bookmark
A set of Chibi Stickers featuring Thorn characters
PLUS Digital goodies:
A PDF of The (Annotated) Goose Girl – the original fairytale with Intisar Khanani's annotations in the margin
A PDF of Brambles – a Thorn prequel short story, by Intisar Khanani
A colouring page of three Thorn-themed bookmarks
All you need to do to enter is send us proof of purchase or reservation at your library, plus your name and address to marketing.childrens@bonnierbooks.co.uk. T&Cs apply!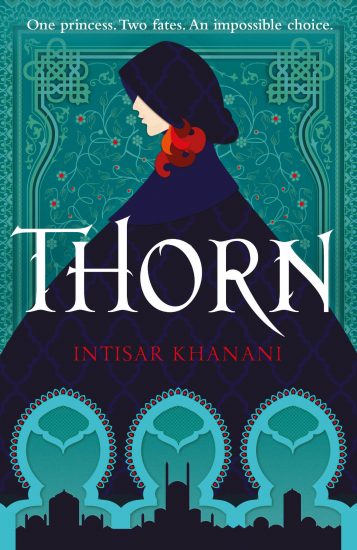 About the Book
Princess Alyrra has never enjoyed the security or power of her rank. Between her family's cruelty and the court's contempt, she has spent her life in the shadows. Forced to marry a powerful foreign prince, Alyrra embarks on a journey to meet her betrothed with little hope for a better future. But powerful men have powerful enemies – and now so does Alyrra.
Betrayed during a magical attack, her identity is switched with another woman's, giving Alyrra the first choice she's ever had: to start a new life for herself or fight for a prince she's never met. But Alyrra soon finds that Prince Kestrin is not at all what she expected. While walking away will cost Kestrin his life, returning to the court may cost Alyrra her own. As Alyrra is coming to realise, sometimes the hardest choice means learning to trust herself.
Inspired by The Goose Girl fairytale by the Brothers Grimm.
About the author
Intisar Khanani grew up a nomad and world traveller. Born in Wisconsin, she has lived in five different states as well as in Jeddah on the coast of the Red Sea. She currently resides in Cincinnati, Ohio, with her husband and two young daughters. Prior to publishing her novels, Intisar worked as a public health consultant on projects relating to infant mortality and minority health, which was as close as she could get to saving the world. Now she focuses her time on her two passions: raising her family and writing fantasy.
Find out more about Intisar Khanani at booksbyintisar.com or on Twitter: @BooksByIntisar or Facebook: Booksbyintisar
T&Cs
To receive pre-order prize, a copy of proof of purchase or library request must be emailed to marketing.childrens@bonnierbooks.co.uk.
Only one entry per person. No entrant may win more than one prize. Winners must supply a name, address, and copy of receipt purchase/preorder of Thorn.
Subscription boxes to not count as a pre-order.
This competition is open to UK and Ireland residents 16+, or with parental permission and with the exception of employees of the Promoter, their families, agents and anyone else connected with this promotion.
Entries must be received by 23:59 GMT on 6th April 2020. The Promoter accepts no responsibility for any entries that are incomplete, illegible, corrupted or fail to reach the Promoter by the relevant closing date for any reason. Automatically generated entries or entries via agents or third parties are invalid and shall not be considered. Entries become the property of the Promoter and are not returned.
In the event of unforeseen circumstances, the Promoter reserves the right (a) to substitute alternative prizes of equivalent or greater value and (b) in exceptional circumstances to amend or foreclose the promotion without notice. No correspondence will be entered into.
Entries are subject to verification and will be declared invalid if they are illegible, mechanically MV reproduced, mutilated, forged, falsified, altered or tampered with in any way. Entrants agree to abide by the Contest Rules and the decisions of the independent judging panel, which are final.
The prize is non-transferable, non-negotiable and non-refundable and the winner may not sell or offer the prize for sale or use it for any further competition, contest or promotion.
The Promoter will use any data submitted by entrants only for the purposes of running the prize draw, unless otherwise stated in the entry details. By entering this prize draw, all entrants consent to the use of their personal data by the Promoter for the purposes of the administration of this prize draw and any other purposes to which the entrant has consented.
The winners agree to take part in reasonable post event publicity and to the use of their names and photographs in such publicity or social media.
Promoter may disqualify any entrant whose entry does not comply with these terms and conditions (in Promoter's sole opinion) or who, in Promoter's sole determination, has acted in a manner that is fraudulent, dishonest or unjust to other entrants including, without limitation, tampering with the operation of the prize draw, manipulating or rigging votes, hacking, deceiving, cheating or by harassing or threatening other entrants or a representative of Promoter.
The Promoter is Hot Key Books, 535 King's Road, Chelsea, London, SW10 0SZ
By entering the prize draw each entrant agrees to be bound by these terms and conditions. These terms and conditions are governed in accordance with the laws of England and Wales.